Rodial's skincare education expert, Lauren Harris, tells you all you need to know when it comes to perfecting your skincare routine. Whether you're a beginner, intermediate or advanced level skincare enthusiast, our skincare routine guide covers everything you need to know.
In this guide, we will cover:
A step by step guide on how to complete a skincare routine

Tips on how to apply each product in the routine

Which variation of the routine is best for nighttime and daytime

Answers to frequently asked questions
The ultimate daytime skincare routine

The Rodial ultimate skincare routine is intended for daytime use. To complete this routine in the evening, incorporate makeup removal and a retinol based product such as Pink Diamond Retinol Overnight Gel. Also change step six from a SPF moisturiser to an oil like the Pink Diamond Lifting Oil - voila!
Retinol is a wonderful, anti-ageing product, but it increases our skin's sensitivity to UV rays, so applying at night and then ensuring that a moisturising SPF is worn the next day helps to prevent sun damage.
For Skincare Beginners
A lengthy skincare routine can seem overwhelming, so if you're just starting out, keep it simple: cleanser, exfoliator, SPF. This way, you're more likely to stick with it
Follow steps:
For Skincare Intermediates
Intermediates may have already been completing a cleansing, exfoliating and moisturising ritual with the odd serum, sheet mask, or face mist every now and again. For something you can stick to as an intermediate, we advise the routine below.
Follow steps:
For Advanced Skincare Enthusiasts
Advanced skincare enthusiasts have been doing these steps already - but are perhaps unsure as to which order to always complete them in, or which kind of skincare products and ingredients to buy.
Perhaps you're growing tired of the products you are currently using? Follow all of the steps in our ultimate skincare routine.
Follow steps:
Step One - Cleanse

One of the most important steps of your skincare routine is to cleanse. Dirt and pollutants build up on the surface of your skin all the time - so cleansing helps to prevent breakouts, dehydration, and premature ageing.
For this step - we recommend incorporating the Vit C Brightening Cleanser into your regime - a super brightening wakeup call for the skin. The gel cleanser can be used every day as it is non abrasive. Ingredients such as a complex combination of acids and vitamin c can help you to achieve a youthful glow, whilst the product gets to work at improving skin texture.
How to use:
Gently massage the cleanser into damp skin using your fingers or a muslin cloth - avoiding the eye area and rinse thoroughly with warm water. Pat dry.
Top Tip: Doing this as part of an evening skincare routine? Try double cleansing for optimal results. Double cleansing refers to washing your face twice: once with an oil-based cleanser and then again with a water-based cleanser.
This helps with the removal of makeup and pore-clogging, acne-causing pollutants that might linger on the skin even after a thorough cleansing.
Try the luxurious Bee Venom Cleansing Balm to melt away makeup and follow up with the Dragon's Blood Micellar Cleansing Water - a micellar water with hyaluronic acid and vitamin b3 to gently cleanse and soothe the skin.
Step Two - Exfoliate/Tone

Cleansing the face before exfoliating allows you to start with a fresh slate - then, exfoliation dives into the pores.
With your now cleansed face we recommend using an exfoliator that will tone the skin. You could use a scrub for this step - we recommend using the scrub only as often as the directions instruct you to do so, as some scrubs are more abrasive than others.
We love a BHA (beta hydroxy acid, such as salicylic acid) or AHA (alpha hydroxy acid, such as glycolic acid or lactic acid) will help to clear pores, prevent breakouts, and dissolve blackheads over time, yet BHAs and AHAs are often gentle enough for everyday use.
Top tip: If you have dry skin, use AHAs, and if you have oily skin, use BHAs.
We like the Vit C Brightening Cleansing Pads for this step of the process. These brightening pads will transform the skin with a blend of vitamin c to brighten and purify dull looking complexions. Fruit AHA acids help to exfoliate and rejuvenate the skin, whilst salicylic acid aids with tightening pores and firming and toning the skin.
How to use:
Each day, use one pad to sweep over your entire face, concentrating on areas that seem dull. Ensure you avoid the eye area when completing this step.
Top tip: The Vit C pads are gentle enough for usage twice a day. But if you're just starting out with other AHAs or BHAs, try using them every other day, then, as your skin grows accustomed to them, you can up your usage to every day.
Step Three - Mask

Exfoliating before applying a face mask makes it easier for the skin to absorb the ingredients in the mask because exfoliators help to remove the dead layer of cells on the surface of your skin.
Sheet masks such as the Rodial Pink Diamond Instant Lifting Face Mask contain moisturising and active elements that can also help your skin absorb other products that you apply afterwards.
This super indulgent sheet mask from the Pink Diamond range is infused with a blend of actives including pink grapefruit, which is rich in vitamin c - a must have to help achieve a brighter, more even complexion.
How to use:
Remove from the protective sheet and apply the serum-rich bio-cellulose mask over the face, directly on to cleansed skin and remove the remaining protective fabric sheet. Leave for 20-30 minutes and peel-away. Gently massage any residue into the skin for optimal benefits.
Top tip: You may not want to use a sheet mask every day - but saving these for days where you have a special occasion or are wanting to feel a little bit more special is a great idea, plus, the ingredients in this mask help to form a flawless base for your makeup!
Step Four - Eye Cream

Eye creams are composed of specific ingredients that can help hydrate the dry skin around the eyes, making it look smoother. This is the first step in minimising the appearance of fine lines and wrinkles.
The Rodial Dragon's Blood Eye Gel contains hyaluronic acid to comfort dehydrated skin for a refined, smoother surface whilst haloxyl and arnica work together to help brighten the eye area and reduce puffiness.
How to use:
Using your fingertips, apply around the eye area and under the brow bone.


Step Five - Serum

Serums are thinner and lighter than moisturisers, and they perform a wider range of tasks. They contain smaller molecules coupled with a higher concentration of ingredients, making it easier to penetrate, improve, and/or nourish the skin.
For the serum part of your routine - the Rodial Snake Oil Drops are an excellent choice. This luxurious facial oil drenches skin with a 5-in-1 oil blend featuring babassu, almond and peach kernel oil, rich in omega 3 and 6, vitamin E and antioxidants to help soften and condition the skin with hydration.
How to use:

Gently massage 2-3 drops onto a cleansed face and neck, paying particular attention to areas with expression lines. Allow to dry thoroughly.
Step Six - SPF Moisturiser
Finally - the moisturiser. A moisturiser's job is to hydrate the skin and prevent water loss. We recommend opting for the Dragon's Blood Hyaluronic Moisturiser SPF15, which is full of skin-nourishing extracts to plump and firm dehydrated skin - whilst the Dragon's Blood helps to form a 'barrier' which locks in all of the good ingredients that you've applied in your routine.
Not only this, the SPF ingredients are a complete necessity for a daytime skincare routine - as we all know, SPF is vital no matter the weather!
For fuller coverage and protection from UVA and UVB rays, try moisturising with the Dragon's Blood Hyaluronic Moisturiser and then applying our best-selling SPF 50 Drops, with blue light filter technology that works to shield skin from collagen degeneration and loss of elasticity.
Frequently Asked Skincare Questions


Below are some of the most pondered questions when it comes to skincare - our skin care expert has provided some answers.
When to apply sunscreen in skincare routine
As a general rule, sunscreen should always be applied last in your skin care routine. Therefore, sunscreen should always come after moisturiser! (Unless your moisturiser contains sunscreen, like our Dragon's Blood Hyaluronic Moisturiser SPF15 - in which case ensure that this product is still the last product used in the skincare routine.)
What time should I do my night skincare routine?
If you're using this routine (and swapping out step 5 and 6 to make it nighttime friendly) - then don't put it off until you are about to go to bed, as a lot of your products can simply soak into your pillowcase and bed sheets. Make your skincare routine earlier in the evening to allow for optimum product penetration. For example if bedtime is 11pm - do your routine around 9pm.
Shopping List for this Routine


Dragon's Blood Hyaluronic Moisturiser SPF15
For more skincare tips, guides and inspiration read our
blog
or find us on
Instagram
.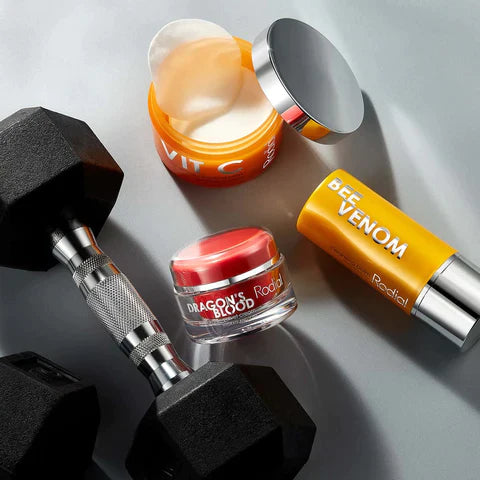 Skin cycling is the gym for your skin. It's a way of applying your skincare on a four-night rotation to maximise the benefits for skin, leaving it clearer, smoother and firmer.
Read More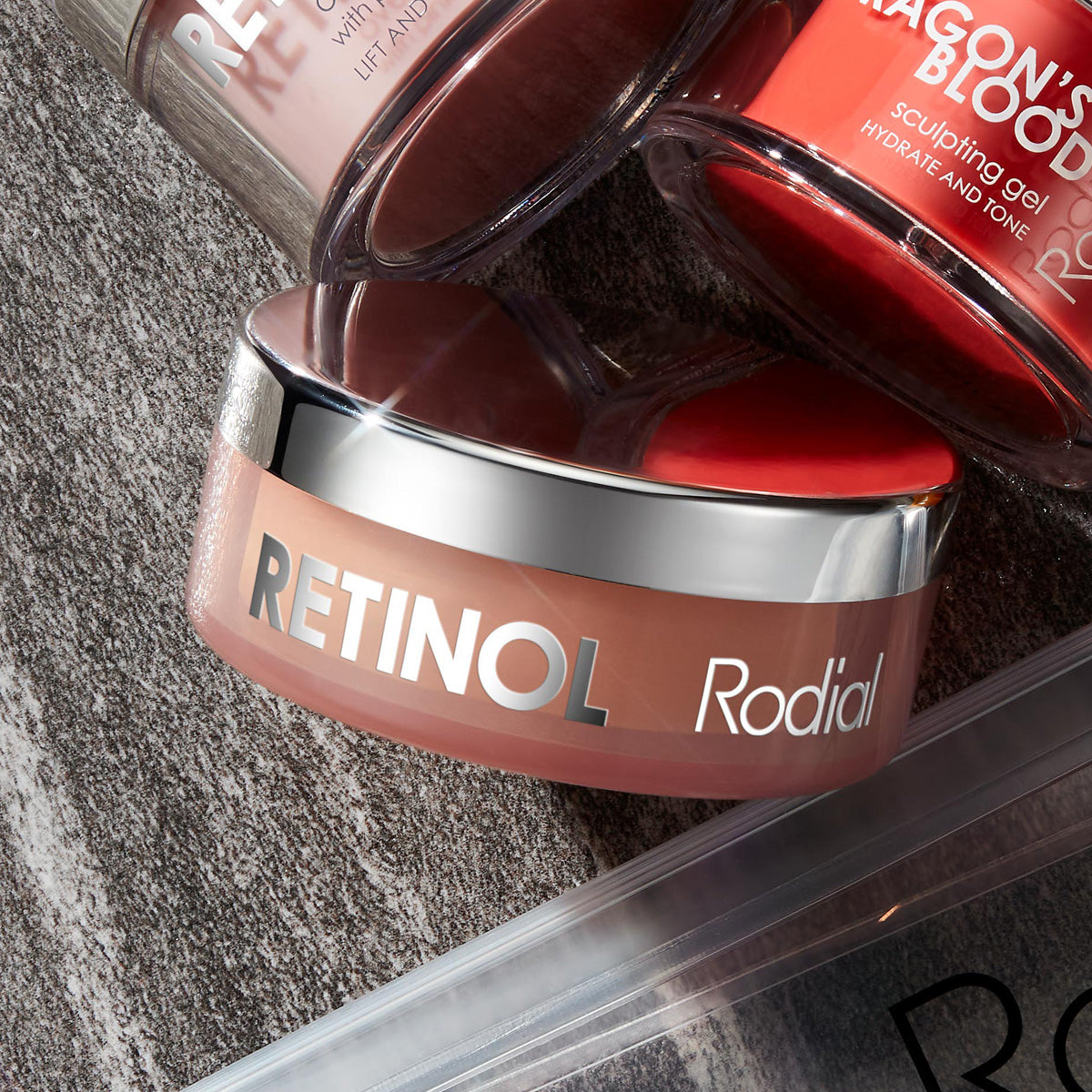 Discover the causes of blocked pores and hormonal acne and what products to use and recommended routines
Read More